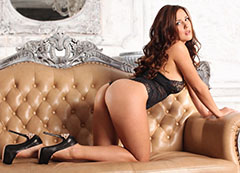 Hello, my future lovers!
My name is Colette, but you can call me almost anything you like. I have a great collection of outfits designed especially for our sexy meetings. We can play out any fantasy you have. I am a great actress and can really get into a role of a sexy policewoman, stewardess, secretary, student, bride, maid, teacher or just an elegant lady in a very classy dress who gets whisked away by a sexy vagabond like you. If you have any other ideas and scenarios – let me know and I will arrange everything necessary to make your dream come true! But whatever role I take on and whatever scenario we are enacting – I always keep it extremely sexy and titillating.
I am also not afraid of tougher assignments: I am no stranger to light domination. I have a great set of latex sits and great toys that can make the experience extra fun for both of us. Just note one thing: I am always the dominating side, not you.
If you have any good ideas for the two of us – let me know and we will make our date spectacular!
Hope to hear from you soon!
Kisses!